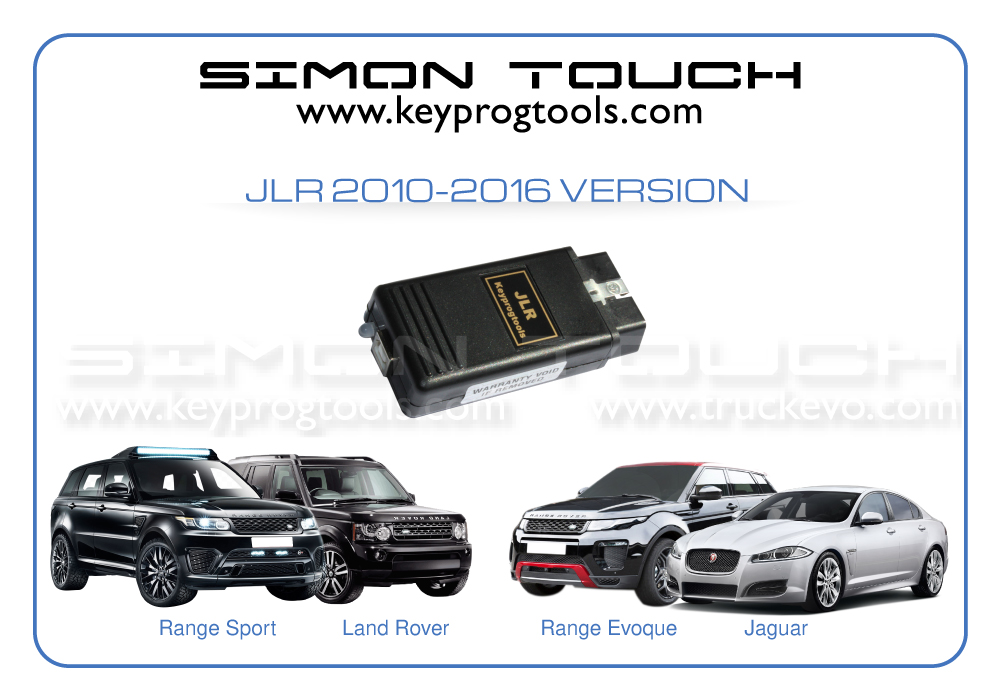 2015 (SDD V.141.04 Plus) All JLR vehicles have a new software update, which makes their Keyless vehicle modules (KVM) READ ONLY.
If the owner lost all his keys or requires an additional key, the KVM should be replaced.
A new update for JLR standalone key programmer ready to cover latest versions that support CAN based models from 2010 up to 2016 FK72 Versions of KVM Without exchanging the KVM.
The programmer needs 15 to 25 seconds to learn a new key if there is no fault codes in the air transmitting of the signal from the intelligent key module.
If there is a fault, the device needs 25 seconds to clear the fault and learn a new key.
Device program the maximum of 8 keys in the immobilizer module memory.
Range Rover sport - 2010 -2016
Range Rover Mark III - 2010 -2016
Range Rover mark IV- 2010 -2016
Range Rover E vogue 2012-2016
Land Rover Discovery IV-2010 -2016
Land Rover Freelander II- 2012-2016
Jaguar XF - 2010-2016
Jaguar XJ - 2010 -2016
FREE PC SOFTWARE THAT HAS MANY FREE FUNCTIONS

Renew used keys and reprogram them to the vehicle

Replace faulty lost keys and add new keys

Software can update the device so no need to resend us the device for future update
JLR CAN adapter (not included)
Click here to download KVM location manual

Latest Versions List
KVM
DPLA-14C104-CA NEW Free to all our clients
DPLA-14C104-CB NEW Free to all our clients
AH22-14C104-AA
AH22-14C104-AB
AH22-14C104-AC
AH22-14C104-AE
AH22-14C104-AJ
AH42-14C104-AB
AH42-14C104-AC
AH42-14C104-AD
AH42-14C104-AE
BJ32-14C104-AE
DPLA-14C104-AA
DPLA-14C104-AB
DPLA-14C104-AC
DPLA-14C104-AD
DPLA-14C104-AE
DPLA-14C104-AG
DPLA-14C104-BA
FK72-14C104-AC
FK72-14C104-AD
FK72-14C104-AF
FK72-14C104-BB
JLR Software Screenshot