Keyless Protector for keys with S2450 battery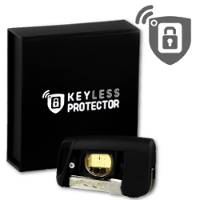 The first electronic keyfob protection in the world.
System activation:
Automatically secures the keyfob, when you leave the car.
As a result, the key signal will not be intercepted.
System deactivation:
Double tap the keyfob that is in the pocket of your pants or bag to open the door and start the engine.
Installation:
It has the form of a clip, which easily and quickly can be put on the keyfob battery without interfering with the car's electrical system.