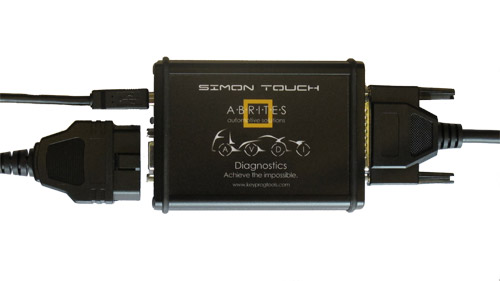 Its main features are
Compatible with all diagnostic software produced from our company
One year free updates of all applications from the basic diagnostic suite
One year free customer support by email
SAE J2534 compliant driver available for our interfaces
Compatible with many 3rd party diagnostic software
VCI emulator which can allow AVDI to emulate different interface units (like K-line interface, ELM327 interface,). Emulation allowing you usage of many additional 3-rd party software's – Webasto TT, Evinrude Diagnostics, Suzuki/Yamaha Marine Diagnostics

and many others.

Compatibility with VW/Audi/Seat/Skoda/Bentley/Lamborghini ODIS

Compatibility with Fiat EXAMINER
Supporting external communication link with transponder programmer and IC programmer

Compatibility with Toyota/Lexus/Scion Techstream

Compatibility with Honda/Acura HDS

Compatibility with Volvo VIDA

Compatibility with DAS/Xentry - Star Diagnosis

Compatibility with Nissan Consult III+

Compatibility with Ford Scanner
Compatibility with BMW - DIS over K-line and CAN bus

Compatibility with BMW - E-Sys, INPA, EDIABAS, NCS Expert, NFS over K-line and CAN bus

Compatibility with Rover/Jaguar IDS

Compatibility with Subaru Select Monitor III

Compatibility with Bombardier diagnostic software

Compatibility with GM - Tech2Win, GDS2 and SPS diagnostic software

Compatibility with HYUNDAI GDS

Compatibility with KIA GDS
The special functions developed by our company such as key programming abilities, security code extraction, etc. can be purchased separately. A full list of our special functions is available here: Specifications and prices
Currently AVDI is distributed with the following diagnostic software
AVDI for VAG - VW/Audi/Seat/Skoda




AVDI for Porsche




AVDI for Mercedes/Smart/Maybach




AVDI for Opel/Vauxhall




AVDI for Toyota/Lexus/Scion




AVDI for Jaguar/Land Rover




AVDI for BMW/Mini




AVDI for Renault




AVDI for Nissan




AVDI for Peugeot/Citroen




AVDI for Fiat/Alfa/Lancia




AVDI for Ford/Mazda




AVDI for Chrysler/Jeep/Dodge




AVDI for DAF




AVDI for Mitsubishi




AVDI for Hyundai/Kia




AVDI for Suzuki




AVDI for Volvo




AVDI for Daihatsu




AVDI for Bikes/Snowmobiles/Water scooters




AVDI for Subaru




J2534 Pass-through driver that allows users to use 3rd party diagnostic software
Software for diagnostics for MAN and Scania is currently under development.
The interface will also be compatible with some of our other tools that are currently being developed like:
AVDI Locksmith Tool
AVDI Mileage Tool
AVDI Tuning Tool
AVDI SRS Tool

AVDI is designed in conformity with the following European Directives: 2004/108 / EC, 2006/95 / EC, 2011/65 / EU, 2012/19 / EU and meets the following safety norms: EN61010-1: 2010, EN61326-1: 2013. It has been tested in the laboratories of TÜV Rheinland and has a GS certificate, which guarantees the high quality of the product. It evolves with every new car model to answer the increasing demands of the automotive business, which makes it the best choice for professionals and advanced enthusiasts.
Technical specification:
K-line ISO 9141 (100 mA) multiplexed to 24 different pins of the diagnostic connector
ISO14230 compliant
SAE J1850 VPW,PWM compliant (needed additional adapter)
Single wire CAN bus multiplexed to different pins of diagnostic connector
Dual wire low speed CAN bus multiplexed to different pins of diagnostic connector
Dual wire high speed CAN bus multiplexed to different pins of diagnostic connector
CAN bus GMLAN, ISO14229, ISO15765, J1939, ISO22901 compliant
Analog Input
Bluetooth connection (* optional)
USB interface to the PC
Supply voltage 8..30V DC
OBDII cable
Updatable firmware