Commander for Ford/Mazda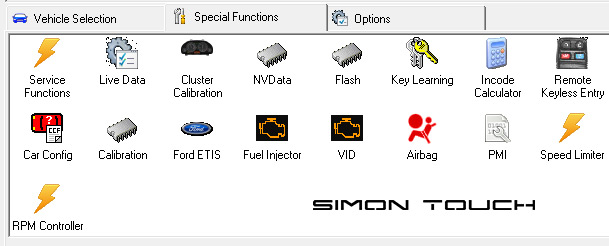 The AVDI diagnostics for Ford/Mazda is a diagnostic software application, used together with AVDI that allows the user to perform standard and advanced diagnostics for Ford and Mazda vehicles.
Standard diagnostics include functions such as reading, identification and clearing of diagnostic trouble codes, module identification, extended module identification, service interval reset, actuator tests and many others.
The above described functions are standard features of the AVDI diagnostics for Ford/Mazda. They allow the user to determine the cause of an issue as well as provide assistance in repairing problems with the vehicles.
The advanced diagnostic functionality of the AVDI diagnostics for Ford/Mazda allows the user to perform key learning, module exchange and cluster calibration using new and used parts in a quick and comprehensible manner. The list of supported models is constantly being updated and currently includes almost every model.
The software is quick, easy and agile, and by being such it manages to exceed the user's expectations and provide a diagnostic level higher than the main dealer tools every time.
Standard diagnostic functions

Device scanning

Reading identification data for all electronic control units

Reading/clearing diagnostic trouble codes (DTCs) for all electronic control units

Data Display/Measured values
Fuel Injector Correction Factors
Speed Limiter - Modify the speed limit set by the dealer on Ford Transit MK6 (2000-2006) and MK7 (2006+)
Set RPM Controller mode and associated engine speed - Ford Transit MK6 (2000-2006) and MK7(2006+)
Programmable Module Installation - With PMI you can safely replace an original ECU with a used or a new one. PMI transfers the internal data from the original ECU to the replacement one. If the original ECU is not available, you can obtain the data from the Ford Global database.
Reading and updating the EEPROM of the following RCM (airbag modules) of the following 95320/95640 types by OBD:
- AM5T-14B321-xx, BM5T-14B321-xx, CM5T-14B321-xx ( Bosch / 95320) - Ford Focus 2010+
- DM5T-14B321-xx, EM5T-14B321-xx, DV4T-14B321-xx, FJ5T-14B321-xx ( Bosch / 95640)
- CV4T-14B321-xx ( Bosch / 95640)- Ford Kuga 2013+
- CJ5T-14B321-xx ( Bosch / 95640) - Ford Escape
DPF regeneration for the following engine types in the following vehicles:
- 1.4 TDCI - Ford Fiesta 2008, 2010, 2013
- 1.6 TDCI - Ford Focus/CMax 2011, 2015
- 1.8 TDCI - Ford Focus/CMax 2011, 2015, Mondeo/SMax/Galaxy 2007, 2011,2015
- 2.0 TDCI - Mondeo/SMax/Galaxy 2007, 2011
- 2.2 TDCI - Mondeo/SMax/Galaxy 2007, 2011
- 2.4 TDCI - Transit 2006, 2010, 2013
GEM configuration Ford Focus/CMax MK2 - 2003, 2008. The function allows the adding of a cruise control module to vehiclesn that were not equipped with such from the factory.
Ford/Mazda PCM Read/Write flash memory for the following ECUs:
- EDC16C3 - 1.4/1.6 TDCI, EDC16C34 - 1.4/1.6 TDCI
- SID804 - 1.8/2.0 TDCI
- SID206 - 1.8/2.0 TDCI
- Denso 1MB - Mazda 5/6 - 2.0D
Service functions
Reset The Powertrain Control module ( PCM ) Learned values
Reset The Exhaust Gas Temperature value
Initialize the Exhaust Gas Related component
Reset Keep Alive Memory ( KAM )
Reset the Diesel Particulate Filter ( DPF ) Learned Values
Reset the Water in Fuel ( WIF ) Warning Indicator
Reset the Knock Sensor Learned Values
Reset the Fuel Metering Valve Learned Values
Reset the Intake Air Throttle Valve Learned Values
Reset the Exhaust Gas Recirculation ( EGR ) Valve Learned Values
Reset the Differential Pressure Sensor Learned Values
Fuel Injector Correction Factors
Relearn Vehicle Data
Reset the Mass Air Flow ( MAF ) Sensor Learned Values
Reset the Fuel Pressure Relief Valve Open Count Learned Value
Reset the Fuel Pressure Relief Valve Open Duration Learned Value
VID (Vehicle Identification) - When looking at the European Ford Motor Company models built before and around 2005 we can see that most of the vehicle equipment configuration is stored in the engine control unit under VID. These configurations contain optional vehicle equipment such as electric windows, central locking, high-end audio systems, cruise control and others.
The VID is used in the US market Ford vehicles, in some cases even with the later models. Using this function you can perform upgrades to the vehicles. For example you could upgrade a car with no cruise control to accommodate this option and accept it as if it was built in from the factory
CCC (Central Car Configuration) - In many vehicles built after 2005, mostly European specification ones, the above mentioned VID receives an update - the philosophy behind it has changed.
The more modern system receives the name CCC and performs a similar task in a much more optimized manner. You can perform upgrades and downgrades to the vehicle specification and add or remove optional components in such a way, that this does not affect the vehicle's performance in any way. A noteworthy fact is that the CCC is now contained in the Body Control Module, rather than the Engine Control Unit
PMI (Programmable Module installation) - Using this option you can perform ECU exchange for various models. Our list of supported vehicle models is constantly growing and you can always see it under the special function, dedicated to the PMI
Special functions
Instrument Cluster Module Recalibration

Reading and updating the internal control module configuration memory by diagnostic.

SUPPORTED MODELS:

Ford Focus II 2004+
Transit Connect 2007+
Tourneo Connect
Mondeo IV High Line 2007+
Fiesta (CAN)
Galaxy III 2006+
C-MAX
Fusion
S-MAX
Kuga
Crown Victoria 2006+
Escape 2006+
Flex 2006+
E150-E350 2006+
F150-F350 2006+
Freestar 2006+
Freestyle 2006+
Mustang 2006+
Edge
Focus USA 2005+
Fiesta USA 2010+
Explorer 2004+
Expedition 2004+
Ranger 2004+
Grand Marquis 2006+
Town Car 2005+
F150 2005+
Fx50 2005+
Ex50 2005+
Flex 2007+
Edge 2007+
Fusion USA 2006+


Instrument Cluster Module Recalibration
Key Manager, Advanced Diagnostic Functionality
Key programming functionality , InCode calculator needed for adaptation of new electronic control units (and keys also)
Fuel Injection Pump (FIP) Initialization - Bosch VP44 Diesel pump :
Focus I 1.8 TDDi - 1999 - 2001
Connect 1.8 TDDi - 1999 - 2001
Tourneo connect 1.8 TDDi 2003-2004
Transit 2.0 TDDi - 1999-2002
Mondeo 2.0 TDDi - 2000-2003
Mondeo 2.2 TDDi - 2000-2003
Fiesta IV 1.8 TD - 2000-2002
Fiesta Courier IV 1.8 TD - 2000-2002


INCODE calculator for FORD, MAZDA, JAGUAR, LAND ROVER, MERCURY, LINCOLN

Ford Focus; C-MAX; S-MAX; Fusion; Mondeo; Kuga; Galaxy; Transit; Tourneo Conect; Ka; Fiesta; Taurus; Crown Victoria; Thunderbird; ZX2; Mustang; GT; Edge; Escape; Explorer; Expedition; Ranger; Super Duty; Freestar; Mazda 2/Demio; Mazda3/Axela; Mazda5/Premacy; Mazda6/Atenza; Mazda8/MPV; CX-7; CX-9; Biante; Carol; AZ-Wagon; AZ-Offroad; Spiano/Scrum Vagon; Verisa; MX-5; Biante; Tribute; Mercury Grand Marquis; Mariner; Sable; Milan; Mountaineer; Marauder; Montego; Monterey; Lincoln Zephyr/MKZ; LS; Town Car; MKS; Aviator; Mark LT; MKT; Navigator; MKX; Blackwood; Land Rover Discovery; Range Rover Defender; Freelander; Range Rover Sport; Jaguar X-Type; XK/XKR; S-Type; XF/XFR; XJ8/XJR


KEY LEARNING BY OBDII WITHOUT THE NEED OF IN/OUT CODES

Mondeo 2015+ HITAG PRO keys ( ID60 and ID70 ) - blade and smart
S-MAX 2015+ HITAG PRO keys - blade and smart
Fusion 2013+ HITAG PRO keys ( ID60 and ID70 ) - blade and smart
Edge 2014+ HITAG PRO keys ( ID60 and ID70 ) - blade and smart
Mustang 2015+ HITAG PRO keys ( ID60 and ID70 ) - blade and smart
F150 2015+ HITAG PRO keys ( ID60 and ID70 ) - blade and smart
Explorer 2015+ HITAG PRO keys ( ID60 and ID70 ) - blade and smart
Taurus 2014+ HITAG PRO keys ( ID60 and ID70 ) - blade and smart
Lincoln Navigator 2015+ HITAG PRO keys ( ID60 and ID70 ) - blade and smart
Lincoln MKS 2013+ HITAG PRO keys ( ID60 and ID70 ) - blade and smart
Lincoln MKC 2014+ HITAG PRO keys ( ID60 and ID70 ) - blade and smart
Lincoln MKX 2014+ HITAG PRO keys ( ID60 and ID70 ) - blade and smart
Lincoln MKZ 2014+ HITAG PRO keys ( ID60 and ID70 ) - blade and smart
KA 2015+ South American market
Focus II 2004
Transit Connect 2007+
Transit 2006+
Tourneo Connect
Mondeo IV 2007+
Fiesta V (CAN)
Fiesta VI 2008+
KA 2002-2008 (CAN)
Galaxy III 2006+
C-MAX
Fusion
S-MAX
Kuga
Mazda 2 2006+
Mazda 3 2006+
Mazda 6 2006+
Explorer, Expedition, Ranger, Mariner, Mountaineer, F150, Fx50, Ex50 - 2005-2009
Escape 2006-2011
Edge, Flex 2006-2010
Lincoln - MKS, MKX,MKT.MKZ 2006-2010
Ford Focus 3 - 2011+
Ford C-Max - 2010+
Ford Mondeo MK4 - 2010+
Ford Fiesta - 2013+
Ford Kuga - 2013+
Ford S-Max 2010+
Ford Galaxy - 2010+
Ford B-Max - 2012+
Ford Focus 2015+ (regular key / smart key)
Ford CMax 2015+ (regular key / smart key)
Ford Transit courier 2015+ (regular key / smart key)
Mazda 6 Third generation - 2013+
Mazda CX-5 2013+
Mazda CX3 2015+
Mazda 3 2015+


Instrument Cluster Module Recalibration